The Tennessee Ornithological Society is an independent, non-profit, educational and scientific organization devoted to the study and conservation of birds. Our members encourage the study of bird life, to record such findings and to spread our interest among others.
TOS holds annual weekend spring and fall meetings in various venues across Tennessee. These meetings are hosted by one of the 10 local Chapters and are comprised of a Friday night reception, half-day field trips, a business meeting, scientific paper presentations and a celebratory dinner.  An annual winter meeting brings together the membership for the sheer pleasure of birding.
Daily access to bird sightings, important action alerts and other timely announcement can be obtained by joining the Freelist tnbird listserv.
We are guided by our TOS Constitution.
Chapters
Our organization is a federation of ten chapters which hold regular meeting and field trips.
TOS Executive Committee Board of Directors
Nashville
Ken Oeser

Angie Elmore
Projects
TOS Distinguished Service Award Resolution and Recipients
At the 1989 TOS Fall Meeting the Board of Directors approved the establishment of annual awards to be given to persons who have made significant and lasting contributions to the Tennessee OrnithologicaI Society. A committee consisting of Ron Hoff (Chair), Barbara Finney, and Richard Newton reviewed nominations and selected ten recipients based on past contributions and geographical location. Numerous worthy members could not be honored this year. Some of the persons submitting nominations asked to remain anonymous; these requests have been honored and, to be consistent, none of the other persons who prepared nominations are listed. Copies of the nominations and the decisions of the committee have been placed in the editor's files. On behalf of the committee I thank all of the individuals who prepared nominations. On behalf of TOS I express thanks to all of the recipients for their contributions. The recipients are listed alphabetically. The contributions of each recipient are numerous; in fact, an entire issue of The Migrant might be necessary to adequately describe their activities. Consequently, a synopsis of their contributions is presented.
by Ron Hoff
In October 2015 TOS member gathered at Montgomery Bell State Park to celebrate the 100 year Anniversary of the Club – 1915-2015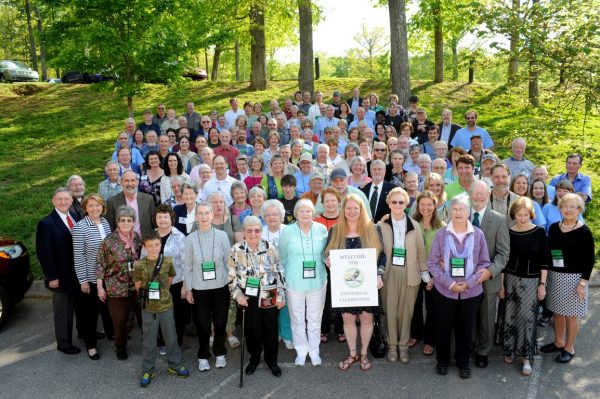 This film documents the lives of those who pioneered and sustain the Tennessee Ornithological Society, the earliest state-level bird-study and conservation movement in the southeastern United States. Written, edited, narrated, and filmed by NTOS member Danny Shelton this film was made for the 100th year Anniversary celebration of TOS and stands as a living legacy of the organization.