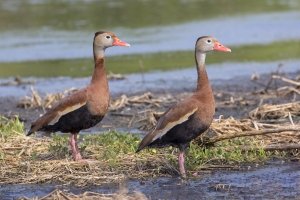 The Tennessee Ornithological Society (TOS) Board of Directors established the Conservation Policy Committee at the 2002 TOS Fall Meeting. This Committee will study environmental issues of importance to Tennessee birdlife and develop policy recommendations. These recommendations must be approved by the Board of Directors (or, in an emergency, by the Executive Committee) in order to become official TOS policy. The Committee has six members, including the chairperson, with renewable annual terms.
The American Bird Conservancy is an first-rate source of information on the most pressing policy-making issues of the day with regard to the goals of halting extinctions, protecting habitats, eliminating threats, and building capacity for bird conservation.
 They work closely with other wildlife and conservation organizations to stay on top of what is happening with federal agencies, the U. S. Congress and White House, and with state governments.
It is an excellent source for Action Items, pre-written letters to officials, and full explanations of the issues.
TOS members are encouraged to bring conservation issues to the attention of the Committee and are invited to participate in developing policy recommendations with the Committee.
For more information on these issues, on issues that the Committee is presently studying, or on issues you think the Committee should address, please contact one of the Committee co-chairs.
Co-Chairs and Committee Members
Cyndi Routledge, Committee Member

Laura Cook, Committee Member
Dev Joslin, Special Consultant

Ashley Heeney, Committee Member
State of current legal activities opposing Administration's ruling on the MBTA
A coalition of conservation organizations that includes the National Audubon Society, the American Bird Conservancy, The Center for Biological Diversity, and Defenders of Wildlife has filed suit in the U.S. District Court for the Southern District of New York.  As of May 2019 this suit was allowed to continue. Plaintiffs' motion for summary judgment is due to be filed on January 17, and all briefing will be completed within several months after that. In addition, the Natural Resources Defense Council filed its own suit as did a number of states led by New York. Their briefs are also due January 17.
Current Conservation Work
TOS Policy Actions
February 5, 2019: Public Comment letter to the USDA objecting to its proposed interim rule excluding seasonal wetlands from wetlands regulations.  Letter composed by National Wildlife Federation and Izaak Walton League.
August 1, 2019:  Letter to Office of Surface Mining Reclamation and Enforcement, U. S. Dept. of Interior opposing a surface mining permit application by Triple H on land previously designated in 2016 by the state of Tennessee and U. S. Dept. of Interior as "Land Unsuitable for Surface Mining."  Letter from So. Environmental Law Ctr. Also signed by National Parks Conservation Association and the Tennessee Environmental Council.  This land is important for breeding Golden-winged Warblers and Cerulean Warblers.
January 13, 2020: – TOS joined a growing coalition of organizations supporting a new U. S. House bill (H.R. 5552), the Migratory Bird Protection Act. Others signers include American Bird Conservancy, National Audubon Society and National Wildlife Federation.
January 17, 2020:  TOS sent letters to Tennessee representatives in U. S. Congress urging them to support and cosponsor the Migratory Bird Protection Act, which will reinforce bird protections at a time when bird populations are facing a crisis. Letter composed by National Audubon Society.